Key Insights
Design That Speaks: The Everly isn't just a home; it's a statement of modern living. From the trendy vertical cladding to the unique curved entrance, every design element is a testament to its commitment to style and functionality.
Heartfelt Togetherness: The open-plan living, dining, and kitchen area of The Everly isn't just a layout; it's a lifestyle choice. Designed for those who know how to have a good time, this space fosters togetherness and joy.
Personalised Comfort: The Everly recognises the importance of personal space. With a king-sized main bedroom as your retreat, complete with a walk-in robe and spacious ensuite, it offers a sanctuary within the home.
---
Meet The Everly 👋
Welcome to The Everly, this stylish abode is more than a house; it's a haven designed for every life stage, especially tailored for buyers looking for a perfect blend of functionality and style.
A Stylish Curvy Entrance
As you approach The Everly, be prepared to be impressed by its trendy vertical cladding that exudes modern charm. Step through the front door, and the unique curved wall welcomes you, immediately creating a sense of spaciousness and openness. It's a distinctive touch that sets The Everly apart, making it a home that embraces you from the moment you arrive.
Heart of the Home
The beating heart of The Everly lives in its open-plan living, dining, and kitchen area – a space designed for those who know how to have a good time. 💃🎉 This layout is a deliberate choice, fostering a sense of togetherness. The kitchen is a chef's dream. Ample storage, including a roomy pantry and overhead cupboards, ensures that everything has its place.
Natural light floods the living and dining area, thanks to the raked ceiling and VELUX skylights. The result is a vibrant and inviting atmosphere that makes you feel right at home. And for those who love outdoor living, the stylish and low-maintenance alfresco area is the perfect spot for laid-back backyard BBQs with family and friends.
Your Personal Retreat
The Everly understands the importance of personal space. The king-sized main bedroom is a true retreat, complete with a walk-in robe and a spacious ensuite. Meanwhile, three additional bedrooms are tucked away at the rear of the house, providing privacy and comfort for the entire family.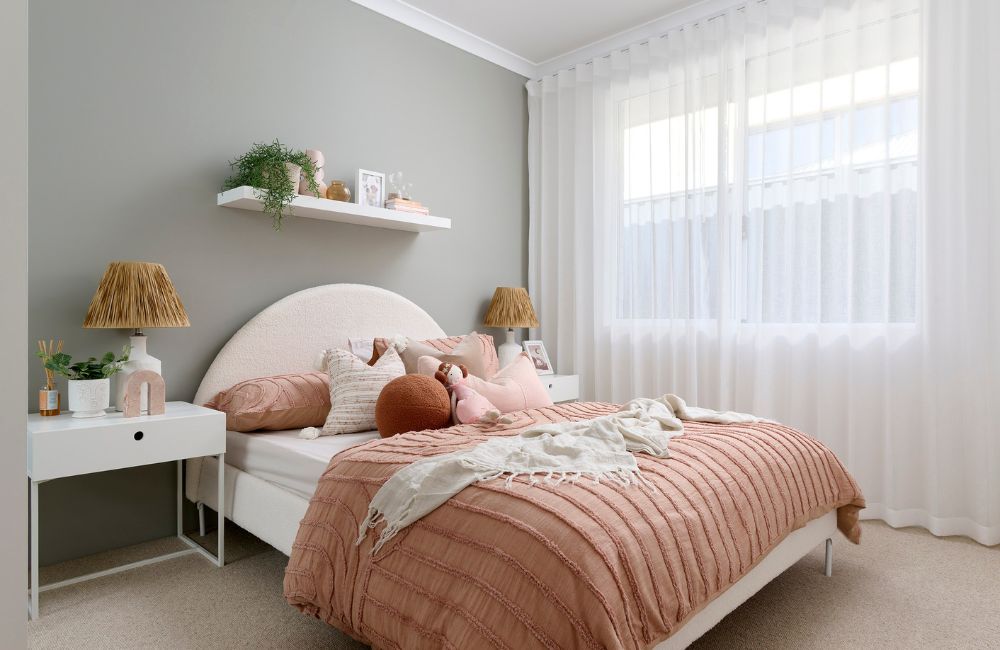 Entertainment Hub
But that's not all! At the front of the house, you'll discover a dedicated theatre room – a perfect spot for the kids to watch their favourite movies or for cozy movie nights. It adds an extra layer of versatility to The Everly.
The Everly is a comfortable and stylish haven, perfect for families and those who love to entertain. It's a celebration of modern living, offering a unique combination of practicality and sophistication for first home buyers embarking on their home ownership journey.
Step into The Everly and experience the warmth and style that makes it more than just a house – it's a home designed for you. 😊🏡